Test av Stellar S14S
Stellar S14S testet av Adventure Kayak magasinet vår 2015.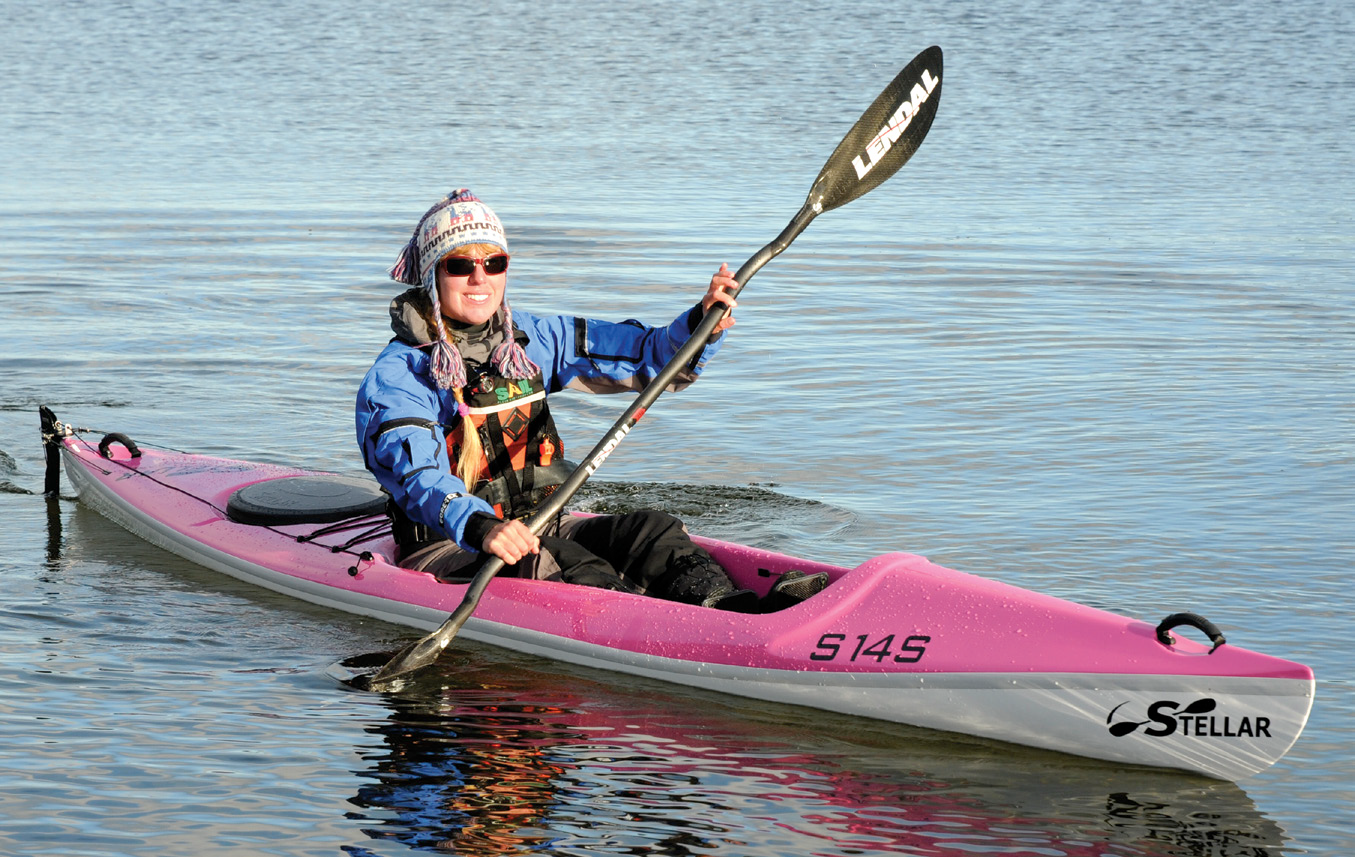 THE S14S by Stellar Kayaks
"People have a head-trip about surf skis—
they're skinny, they're tippy, they're weird."
This from a man who sells the slender craft for
a living. But the people to which Stellar Kayaks
rep Vaughn Smith is referring aren't the manufacturer's
devoted niche of hard-core racing kayakers
and fitness fanatics—they're sensible touring and
recreational paddlers who question the sanity of
perching atop a 19-foot carbon missile with all the
stability of a greased melon.
Any reservations I had about the new Stellar
S14S, however, began to erode the minute I laid
eyes on this sleek, bubble gum pink 14-footer.
And they vanished completely when I slid into the
surprisingly comfortable seat bucket for a frosty
crossing to a cluster of offshore islands.
With its open cockpit, knees-up-and-together
seating position, narrow racing bow and long
waterline, the S14S is clearly a surf ski. Just don't
tell Smith that. "We're marketing this as a performance
sit-on-top, that just happens to be incredibly
fast," he says. Like its longer, narrower siblings in
the Stellar surf ski family, the S14S is designed for
maximum efficiency.
As I discover minutes into the crossing, when I
absent-mindedly pull away from my companions'
16- and 17-foot touring kayaks, greater efficiency
doesn't just equal more speed, it delivers that
sweet, hypnotic glide with ridiculously less effort.
Ergo, more miles covered in an afternoon, and
more waiting for your friends to catch up.
The effortless acceleration is particularly
rewarding on downwind runs, where the S14S
refuses to let even a small swell go to waste. If
catching free rides on every wave doesn't plaster
a smile on your face, you should probably
take up hiking.
More significant, perhaps, than the S14S being
the fastest 14-footer we've ever reviewed, is the
fact that this is a boat beginners will feel comfortable
paddling. The Swede-form hull—measuring a
beamy 25 inches across at its widest point behind
the seat—combined with the soft chines produce
superb secondary stability. Should you take an
unscheduled swim, the shallow deck is easily
remounted from the water.
Adding to the S14S' versatility as a crossover
vehicle between fitness and recreational paddling
or touring, is the inclusion of two watertight storage
compartments. Overnight trippers especially
will appreciate the extra-large stern hatch and
tent-sized bow hatch.
Like all Stellars, the S14S is available in four
different composite layups, from basic fiberglass to
featherweight carbon fiber. Featuring the midrange
Advantage fiberglass construction, our demo
weighed in at just over 34 pounds, translating to an
equally effortless experience off the water. Grasping
the two cockpit handles placed perfectly at the
boat's balance point, I easily lifted it off the roof
rack and solo suitcase-carried it to the water.
Cleaving through a light, evening chop back to
the mainland, I felt the undeniable tug that columnist
and surf ski convert Neil Schulman explored
in "Paddle Faster" (Spring 2013, www.rapidmedia.
com/0318).
It's true that as a sit-on-top 'ski, the S14S
deprives you of certain facets that some kayakers
consider integral to their experience—rolling, dynamic
edging and bracing, extended tripping—but
in return this boat offers something different and
equally tantalizing: a spare, athletic grace accessible
to almost anybody. VIRGINIA MARSHALL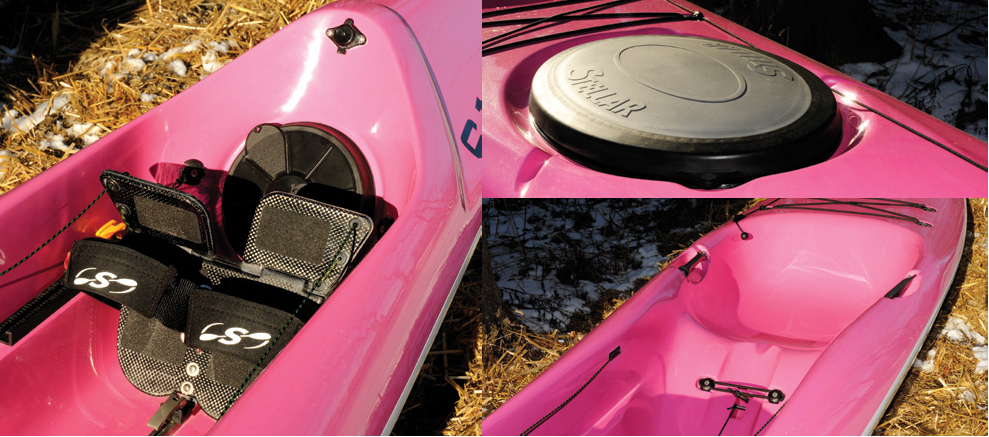 Stellar S14S
Length: 14 ft 3 in
Width: 24.7 in
Weight: 26.9 / 34.2 / 39.5 lbs (Excel / Advantage / Sport)
Max Capacity: 320 lbs
Price: $3,490 / $2,555 / $1,950 (Excel / Advantage /
Sport)
www.stellarkayaks.com
Right on Track
Stellar's steering system combines an over-stern rudder with gas pedalstyle
foot controls that are responsive without being twitchy.
Speed Machine
The S14S may be novice-friendly, but advanced touring paddlers won't
be bored—twin hatches give this pocket rocket the capacity for weekend
trips.
Captain's Quarters
The contoured cockpit is comfortable and supportive. Pull the plug on
the Venturi drain to empty water from the foot well while underway. The
puddle under your butt you're stuck with till shore.